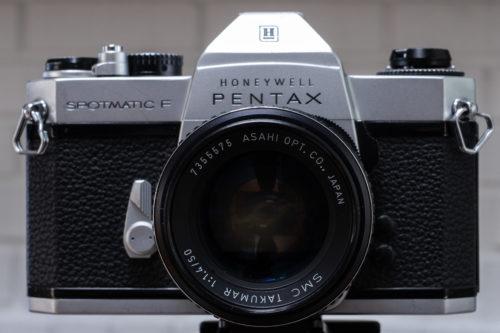 Background
Launched in 1973, the Spotmatic F was the first Pentax to offer open-aperture TTL metering – 7 years after rivals had first offered the feature. It's visually very similar to other Spotmatic models, and continued the tradition of refinement and quality in the hand.
Technical Details
In common with the other late models in the Spotmatic line, the F offers an expanded light meter sensitivity range of 20-3200 ASA, up from the 20-1600 of the earliest models. The biggest advance, as already noted, was the introduction of open aperture metering. Unlike earlier models where the meter was activated by a switch which also stopped down the aperture, the F utilizes a new coupling on the SMC Takumar lenses to communicate the selected aperture to the metering system.
Other than the change to metering, the chassis is fundamentally similar to earlier models: a cloth, mechanical shutter offering 1-1/1000 sec range with flash sync at 1/60sec. at 642g weight is very close to the original SP and SPII.
Why it's special
The first Spotmatic to offer full aperture metering. It also introduced us to the SMC Takumar lenses, which in 42mm screw mount still look very similar to the first generation of K bayonet mount lenses.
The Museum Sample
Acquired in October 2020 with a SMC Takumar 50mm f1.4 for $95, complete with ever ready case and owner's manual. This is a nice honest sample with little signs of abuse or wear.
Additional Info
Manufacturer:Pentax
Year Introduced:1973
Year Discontinued:1976
Film format:35mm
Serial Number:6172372