Travel ain't like it used to be
Bermuda is a small Island, and by May of 2021 they've almost eliminated COVID. They're keen not to let it back in.
In order to travel to Bermuda we must be vaccinated (by the time we book in May we're there), and we must have negative PCR tests no sooner than 3 days before we arrive. We hadn't realized that there were different types of COVID , but apparently there are. The "antigen" test is fast and cheap, but seemingly not accurate enough for travel purposes – we need a PCR test, though it can be a "Rapid PCR".
You can get a PCR test for free from CVS, charged to your medical insurance so not really free – just paid for by someone else, but there's no guarantee on turnaround time. "Typically 1-2 days" isn't confidence inspiring when the timeline is as close as ours. We fly on a Tuesday, and so the proceeding Friday is the earliest we could be tested. Further research shows that we can pay for guaranteed 8 hour results through a private lab, but it's $300. Each. I book both the free CVS test on Friday July 30th, and the paid lab test for Saturday July 31st in preparation for our Tuesday August 3rd flights.
Friday 30th July: the CVS test is self administered – drive up to the window and retrieve the test bag through the dispensing tray. Under the watchful eye of the clinician, wipe the inside of your nose with a cotton swab, pop in a vial of liquid, seal and return. The paid test the next morning (July 31st) is very similar, only someone else swabs your nose.
4 hours later, all clear!
We received the CVS results within 22 hours, at about the same time as the paid results from the lab – noon on Saturday 31st. The next step is to submit the Bermuda Travel Authorisation request (online), uploading the PCR test results and photographs of your CDC vaccination card – and pay $75
All systems go!
The next morning (Sunday August 1st) at 07:02 we receive confirmation that our BTA has been cleared, and the formal hurdles are now past.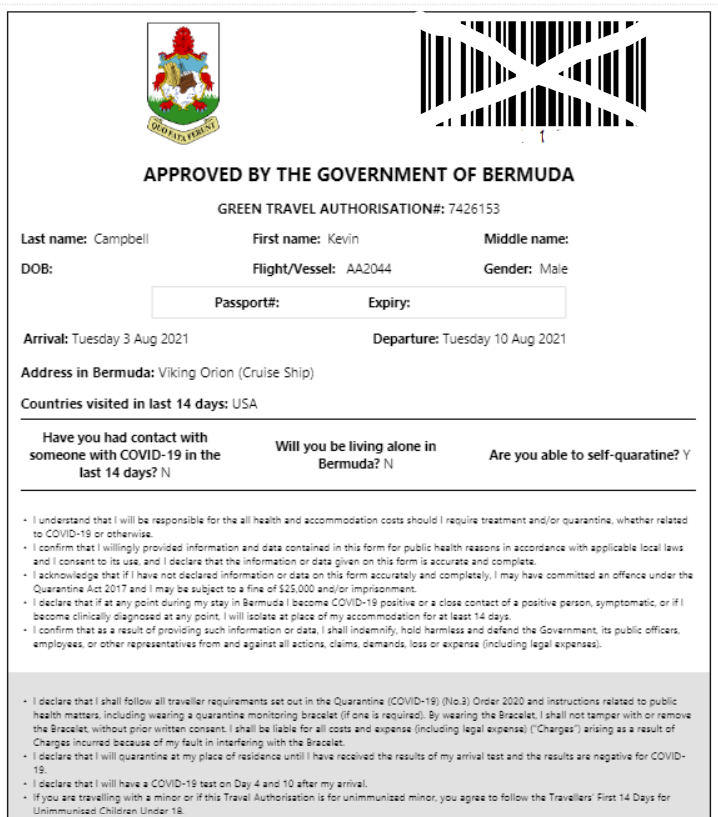 Up Next – Flying to Bermuda