What already sucked, sucks harder
We took advantage of discounted airfare from Viking, which meant they arranged our flights. In retrospect I probably would not do this next time as the savings weren't material, and I'd prefer to have more control over our flights. Our outbound flights are on American, and I'm able to enter our Known Traveler numbers but can't pay to pick better seats. On the returning United flights I'm also able to enter Known Traveler and I can also pay a small amount for exit row seats.
There aren't many flights to Bermuda, perhaps only 6 arrivals each day. We were on a 07:00 flight from O'Hare to Charlotte, then 50 minutes to get to the connection to Bermuda; each flight is about 2 hours. I've booked a 03:00 Private Car service, simply because I've found Uber a bit hit or miss that early in the morning, and to our considerable relief the driver is outside at 02:30 and happy to wait.
There's no traffic this early in the morning, and our driver is a speed demon meaning we're at O'Hare in 30 minutes – pretty much a record from Naperville. We're super early, but are we early enough? Because of the need for American Airlines to check our BTA we cannot use online check-in or a Kiosk, and must wait in line for an agent. At 03:30 there are only two on duty, and the line is impressive.
We stand in line, slowly inching forward, until around 04:00 when two things happen: extra staff arrive to start a shift an a customer service rep pulls us out of line and directs us to the First Class desk, which has no one waiting.
Once we're at the check-in agent things are relatively straightforward. I've assembled printed copies of our BTA and other paperwork in plastic document sleeves, just to make them easier to slide in and out of my backpack. There's the usual international passport check, and we get to pay for our bags. I'm pleased to see that our boarding passes carry the "TSA Pre-check" mark, and that the TSA security line is open; we breeze through in mere minutes.
By 04:35 we're through security, not really that much worse than times past. We take the chance to refill our water bottles, conscious that dehydration is something to manage on the trip. The rest of the outbound experience is pretty normal, and 50 minutes proves to be plenty of time to get between gates at Charlotte. Once we're at the departure gate for the Bermuda flight it's obvious that many of the passengers will be headed to Orion with us – let's just say that I feel like the young guy in the crowd 🙂
It's really, really, feeling like this is actually going to happen. We've read the horror stories of canceled cruises, last minute positive tests, cancelled flights – but here we are on the flight to Bermuda.
Land is sighted under a mound of clouds, plopped in the middle of so much bluer than blue water.
It is with a huge sense of relief that the Bermuda shore comes into view beneath us, and we land uneventfully.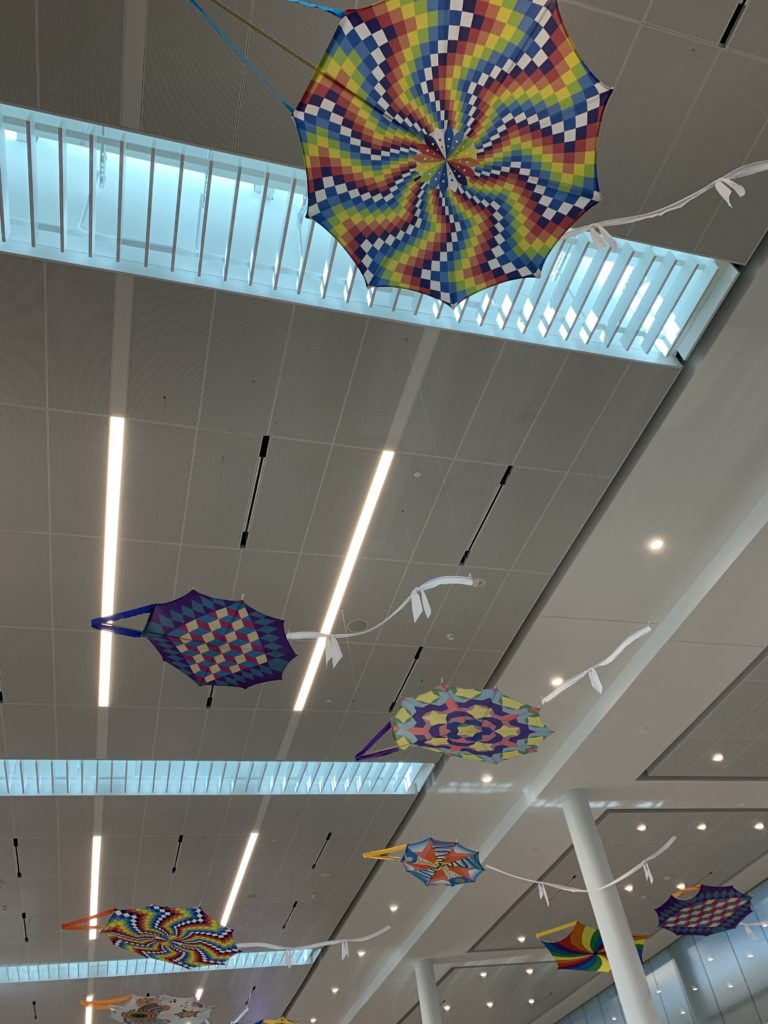 The Bermuda arrivals experience is bright, clean, well cooled, and survivable; we land around 3:00pm. We present our BTA several times, have passports checked in a very easy manner, and wait to collect our bags. Once through customs we're asked to leave our bags to the side of the arrivals hall while we join first a line to collect the pre-printed barcoded lab test form, and then a line for a nasal swab. After the swab we collect our bags and head outside.
As expected there are Viking red shirts waiting for us. We're checked off against a list and hand over our suitcases, then follow directions to waiting buses. It's warm and humid, but not horribly so, though by this point my mask feels pretty sweaty and gross. We down more water while waiting in the bus.
The drive to Hamilton takes about 30 minutes, on very narrow, winding roads flanked by limestone rock walls. The roads are full of scooters, we'd been told to expect this as there are relatively few private cars due to limited road space.
Finally we arrive, and there's Orion right on the main street in the heart of Hamilton. What a sight!