Viking Orion – Manfredi's
Alternative Italian themed dining
There are no extra cost destinations on Viking, instead the Chef's Table and Manfredi's are considered "alternative" dining choices.
Viking guests are big fans of Manfredi's, but I have to confess I was less enamored. The menu is always the same, with a daily fish and pasta special. Several items are famous in the cruising community: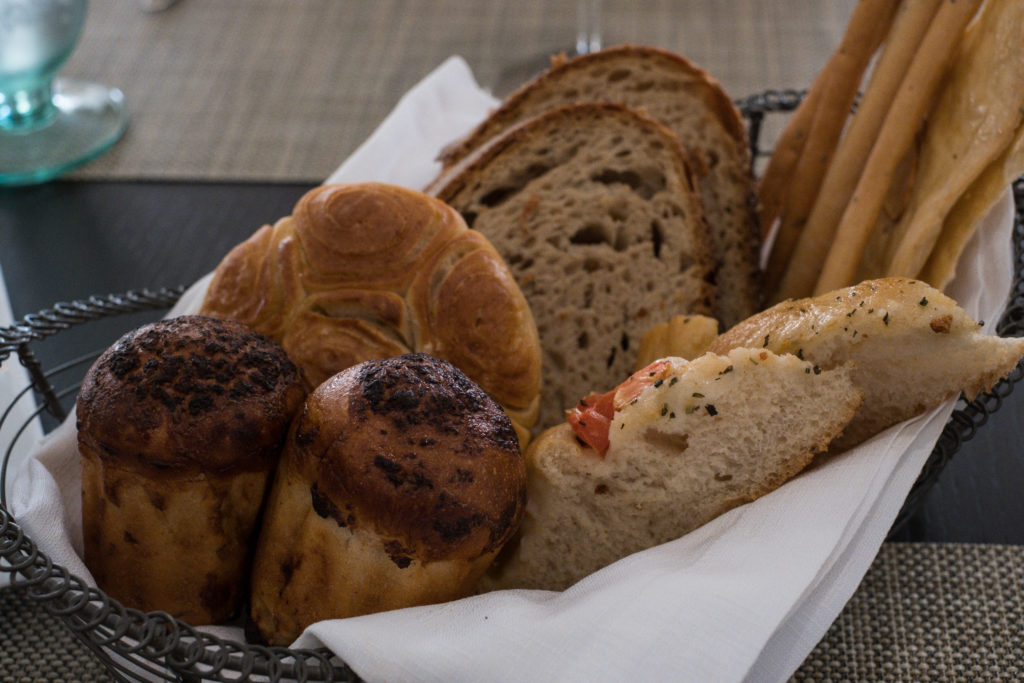 The bread is one of the things much beloved by guests, and it was good – just not "write home about it" good to me at least. Paired with the supplied olive oil and shaved parmesan it was really good 🙂
If you have the Silver Spirits Beverage Package you can order any wine by the glass that is under $15, and they all were. From that point onwards it's a bottomless bottle, with your glass constantly refilled. It makes for a very relaxed dining experience.
On our first visit, the evening of our arrival, I decided to try the much acclaimed rib-eye steak, which I ordered medium-rare. It arrived rare, almost blue, and very fatty – I probably carved off a third of it and left on the side of the plate. Tracey had freshly made Gnocchi which was silken and divine – absolutely heavenly. My sides included some very nice potatoes and sautéed tomatoes – very nicely done.
On our second visit we dined relatively early – 6:30 I think – on a day when we'd enjoyed afternoon tea at 4pm, and so weren't especially hungry. I had a calamari started that was very good, and lobster ravioli as the daily pasta special that was also good.
On our next Viking cruise we probably won't reserve a sitting at Manfredi's – it was OK, but didn't light any fires for me.